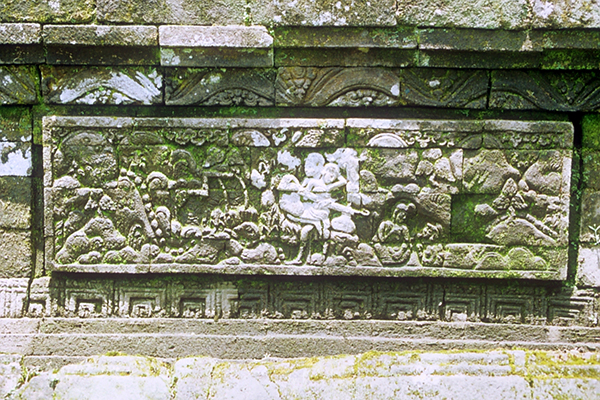 Getting Closer to the Primordial Panji? Panji Stories Carved in Stone at Ancient Javanese Majapahit Temples – and Their Impact as Cultural Heritage Today
Abstract
In search of the roots of Panji, the paper raises the question to what extent the spread of the Panji theme in Southeast Asia is a manifestation of the political and cultural influence of Majapahit within the region. The East Javanese Majapahit kingdom (circa 1300 to 1500 CE) extended its power to most parts of what today is Indonesia, and to Mainland Southeast Asia, implementing specific traits of its rich culture. Did the Panji stories, being a popular literary genre of the time, make part of cultural export?
The paper then focuses on the Panji theme in Majapahit Java itself, particularly in the visual presentations in narrative temple reliefs. The significance of the depictions of Panji stories at Candi Panataran (14th to 15th centuries), the State Temple of Majapahit, allows an interesting understanding of the symbolic religious meaning of Panji. The essence of this symbolism is also manifest in the mountain sanctuary Candi Kendalisodo and in the Panji sculpture from Selokelir (mid-15th century).
In its final part, the paper addresses the role of the Panji theme in present-day revitalization of Javanese culture. The so-called "Panji Culture" ("Budaya Panji") has an enormous potential of strengthening the Javanese cultural identity. Possible ways of transfer and transformation of the Panji tradition within Java and within the larger Southeast Asian region are being discussed.
This paper was presented at the Seminar and Performances of a Shared Heritage: The Panji/Inao Traditions in Southeast Asia, organized by SEAMEO SPAFA on 2-6 March 2013 at the Bangkok Cha-Da Hotel and the Thailand Cultural Centre, Bangkok, Thailand. It is part of an upcoming collected edition of papers presented at the seminar.
Keywords
Java, Panji, temple reliefs, ancient art, Inao, Majapahit, intangible heritage
DOI:
http://dx.doi.org/10.26721/spafajournal.v1i0.172
Refbacks
There are currently no refbacks.
Copyright (c) 2017 SEAMEO SPAFA and Author
This work is licensed under a
Creative Commons Attribution-NonCommercial-NoDerivatives 4.0 International License
.
Copyright SEAMEO SPAFA and respective authors.  e-ISSN 2586-8721 p-ISSN 1858-4101. Powered by Open Journal Systems.

 We are indexed by: